"If I could be anyone for a day, I would be Captain Benny Blanco.  Captain Benny is a fishing Captain.  He takes people to Flamingo.  If I were him, I would get up every morning and drive to Everglades National Park.  I would get on my boat and go fishing for Snook, Redfish and Tarpon.  I would also be able to look at my favorite birds.  That would be an awesome day."
Daniel Quesada
Miami Lakes, Fl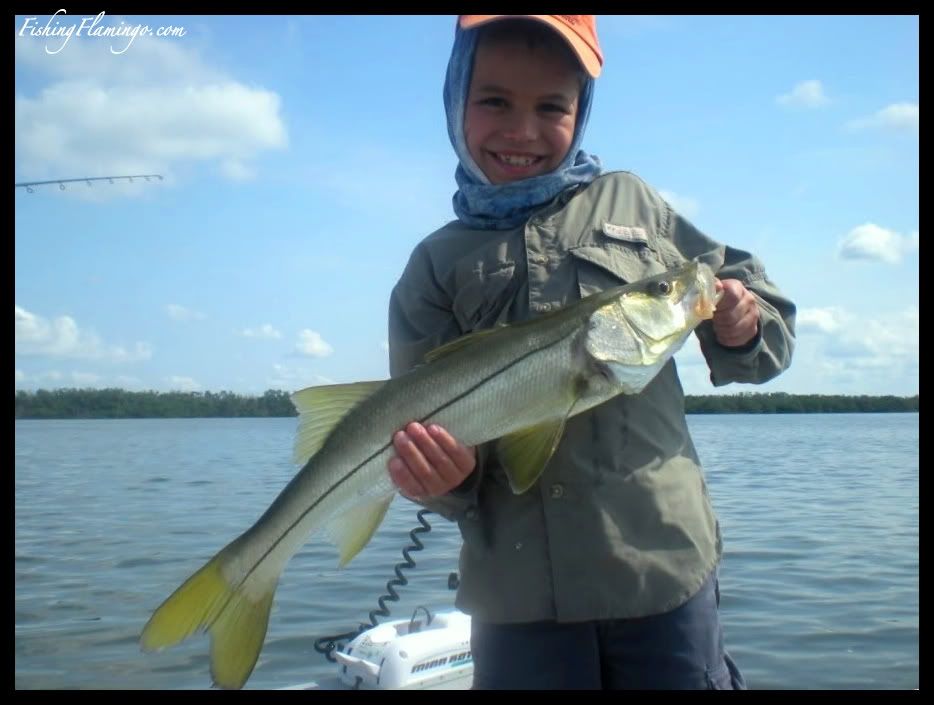 "After the coldest July in the history of Cincinnati, I had to go somewhere that had a summer climate.  At that precise moment I received an email from Captain Benny Blanco about fishing the Everglades National Park at Flamingo, Florida.  Well, I called Captain Benny told him of my situation (I'm in a wheelchair) and booked a 2 day trip.  I then called my nephew Luke and asked if he wanted to go on a fishing road trip.  Of course he was in for the fishing trip of a lifetime as it turned out. 
When we arrived in Florida City I called Captain Benny and made arrangements to meet the next morning.  The next morning Captain Benny met us at the hotel on time, and we followed him into the Everglades National Park.  We launched the boat and were off to the flats to catch whatever would hit our swimbaits.  For the next three hours Luke caught snook after snook (I lost count, well over 20)!  I kept missing my fish (Luke couldn't really be that much better than me.  Yeah right).  Next it was my turn.  A huge school of breeding redfish popped up and one cast into the middle of that school proved to be my ticket.  Those redfish are bass on steroids or so I thought!  What fun!  We doubled up on redfish for the next couple of hours numerous times, and most were overslots! 
The afternoon rains came and we were off to shelter were we didn't get a drop of rain on us.  Captain Benny really knows his stuff.  After the rain we were at it again.  We then caught our biggest snook of the day, a 31 incher.  Then Luke rounded out his day with a Everglades Slam with a gator trout.
Day two turned out even better than day one!  I caught a real SNOOK!  Now, that is a bass on steroids or a bass with balls!  My first Everglades snook jumped 5 times and was 28 inches long..  Captain Benny knows his stuff. Day 2 proved to be over 20 snook and just as many redfish.   We caught a bunch of overslot redfish by sight fishing.  Now an overslot redfish tailing is not only a sight to see but to catch one is one of my thrills of a lifetime.  Luke even caught a 8 pound tripletail on the flats.  WOW what a day!
Captain Benny was more than willing to accommodate my needs.  When I asked him to help me out with something like making a long cast or removing the casting platform due to my disability, he fulfilled my request with a smile and generosity that only a truly good person would do.  Benny knows Flamingo, how and where to fish, plus he is a great person.  I will be back!  But… why does Cincinnati have to be so far from the Everglades?  I want to fish with Benny today."
Rob Birk
Cincinnati, OH
"First of all, let me say that I've been fishing pretty much all of my life. I've gotten into some really nice places and caught really nice fish. Never have I had an experience like I had last Saturday with my two sons and dear friend Capt Benny "and the Jets" Blanco. Seeing tailing reds too numerous to count is, as my son Jeff said, "like heaven dad". This by far, was one of the best days fishing we've had. Benny is by far one of the best, if not the best Captain I've fished with from a knowledge, skill, patience and professionalism perspective.
Thanks again Ben for an awesome trip and for giving my sons and I a great lifetime memory."
Jim Langone of Florida Sportsman Magazine
"If you haven't done this trip and live in Florida, DO IT NOW with Captain Benny.  I've wanted to do a flamingo trip for a long time now and Benny just happened to have a cancellation on a day I could get out…We met him at Flamingo Marina and were off. The winds were still kicking up a bit, but Benny muscled through the flats to find us some great strikes.
My friend Scott and I spent the morning casting at Redfish tails, Snook, and Trout. Scott had the better kharma for the day getting bigger fish working the topwater.  I caught my first redfish and trout!   It is amazing to see them tailing and getting a good cast to initiate the strike while Captain Benny poles us into the zone of fish after fish.
I was very impressed with flamingo and the trip. The drive was about an hour and 45 minutes from Fort Lauderdale and really easy up the turnpike. Once in the park you have a very scenic ride.
I have been out with many captains over the years and found Captain Benny to be top notch. He provided lunch, drinks, great fishing tackle, along with sharing his knowledge of the area. I can't wait to get out there again!"
Michael Grimm
Fort Lauderdale, Florida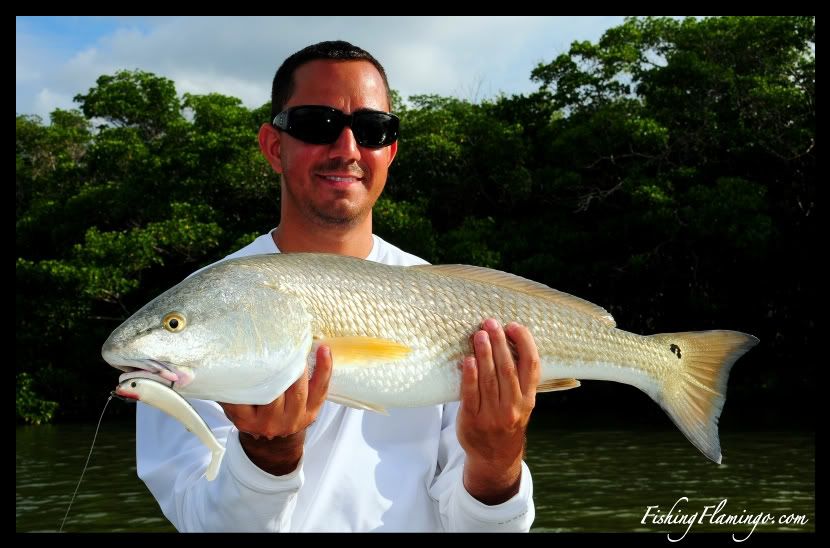 "I have fished several times with Capt. Benny in the Everglades and in the open waters of the Atlantic. My two sons and I are avid fishermen and had never been to the back country. The three times we've gone with Capt. Benny were great experiences. We caught Tarpon, Red Fish, Snook, Shark, Grouper and lots of Trout. For anybody who likes variety of fish this is the place to go. Capt. Benny is always looking for new spots and making sure that we all catch fish. The Everglades experience is something special. It is a surreal place and has beautiful wildlife. I would recommend the back country fishing experience to anyone. You must try it at least once in your life."
Jose "Café" Cacicedo
Miami, Florida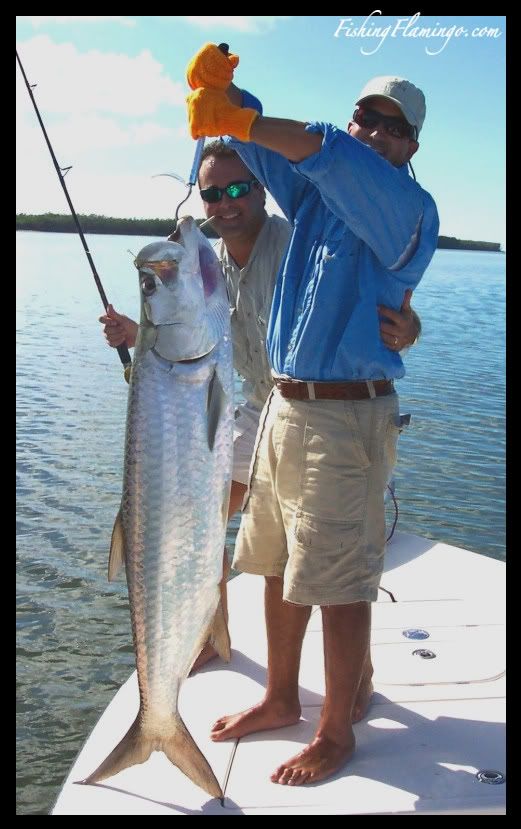 "I have been fishing with Capt. Benny for 10 years now. My first real taste of the wonderful and mesmerizing Everglades National Park was with Capt. Benny. I had only fished there once, years ago with my childhood fishing partner Victor. Every time I go out with Capt. Benny I learn something new and the fishing is always tremendous. I have tried to duplicate what he does on my own and the results are never the same. His knowledge of the area, the way he reads the water flow and studies the tides not to mention his vast knowledge on what bait to use where (live or artificial) is surpassed by none. I have two boys, 8 and 4. There taste of fishing has all been in the backcountry with Benny. They have managed to already have snook, redfish, trout, ladyfish, snapper and shark in their photo albums all thanks to Capt. Benny.
This weekend I had the privileged of fishing with him and Victor. The weather was terrible the few days before. We discussed the night before postponing the trip but all decided to tough it out and head down to paradise. We managed to boat 7 snook (all in the 26-32″ range, 2 redfish, 3 trout, jacks, mangrove snapper, goliath grouper and yes….A sail catfish… Victor and I both had a backcountry SLAM.
Thanks Capt. Benny for always going the extra mile to ensure that the fishing experienced is always top notch. Look forward to many more slams in the future."
Mike Quesada
Miami Lakes, Florida